The next Creative Art Showcase is being held at The Bromsgrove Hotel & Spa from 9th-11th July 21
Come along to experience a continental street party atmosphere – without getting on a plane. Opportunity to explore new Creative Skills.
An inspiring and fun event, designed for the whole family to enjoy come along and have a great day out – Free Entry, timed tickets – book yours now to ensure your spot!
Over 35 Talented Art and Crafters are offering a full range of goods including British designerwear, pottery, bags, jewellery and much more – original artwork at amazing prices!
The Show is fully subscribed – all Stalls have been taken.
Creative Inpiration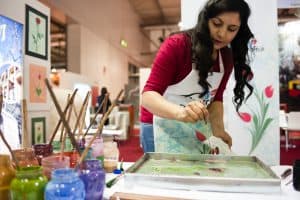 Jewellery  Birmingham is renouned for its history of jewellery making – ever thought about booking yourself on a course to learn how to make jewellery?
Glass Throughout the Midlands there are many local glass blowers, workshops and designers – many  of them  also run classes.
Quilting & Knitting
Perhaps one of the most inclusive Crafts, because its just so easy to join a Group of like minded friends and learn together. At the show we will provide a demonstration of this creative skill and lots of details about where you can go to join classes to meet new people and start to learn or upgrade your exisitng skills.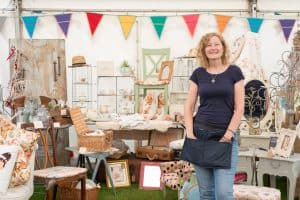 Creativity is open to all.
The opportunities are endess.
Just jump in, the waters warm!