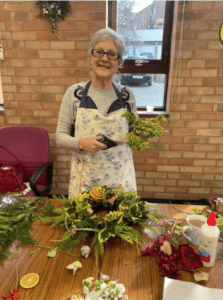 The Christmas Wreath workshop held in the Methodist Meeting Rooms late 2021 was a resounding success with positive comments on all the feedback forms.
The variety and breadth of foliage and sparkly baubles was amazing.
As was the ingenuity design and beauty of the Creativity of the lovely ladies and gentleman who joined us.
With a plentiful supply of Christmas cheer, music and mince pies it was a truly festive day.
This will certainly be on our regular calendar of events.
A special thank you goes to Lynne Griffin who lead the workshop – with amazing skill and masses of humour.
See you in 2022.
Creative Arts Team

Submit your artwork to us